Gallery show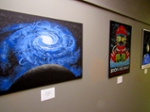 The Center for Advanced Research Computing gallery currently features STEM-themed serigraphs and other work by Jon Sanchez, senior graphic designer at the STEM Collaborative Center.
Poster artist Jon Sanchez was born and raised in Albuquerque. He considers himself an illustrator first and foremost. Although he has used various art mediums for most of his life. He has been designing and screen printing posters for nearly a decade using the name Jonito. Over the years he has created gig posters for bands such as They Might Be Giants, Edward Sharpe and the Magnetic Zeroes, Fitz and the Tantrums and The Dandy Warhols. His work also includes tour posters for Fleetwood Mac and Cursive. 
Jon creates and screenprints all of his own work in his garage studio. Posters are hand drawn, inked, digitally separated, and hand-pulled using acrylic inks. They are limited edition, have been showcased in galleries and sold nationwide. 
The space is open to the public Mondays through Fridays from 8 a.m. to 5 p.m.
The gallery showcases technology-based artistic works and interdisciplinary research in science, engineering, biomedicine, humanities, and the arts.