CARC Gallery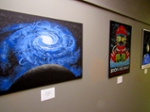 The CARC Gallery at UNM showcases technology-based artistic works and interdisciplinary research in science, engineering, biomedicine, humanities, and the arts.
The gallery currently features STEM-themed serigraphs and other work by Jon Sanchez, senior graphic designer at the STEM Collaborative Center.
The Gallery is open Mondays through Fridays from 8 a.m. to 5 p.m.