Grad student helping out at CARC this summer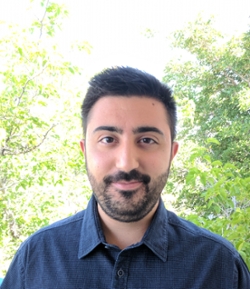 Dimitrios Sikeridis is graduate student working at the University of New Mexico Center for Advanced Research Computing (CARC) this summer. He is helping CARC staff to update the center's main website and merge content from the user website, as well as installing software on CARC machines.
Sikeridis is also using the CARC systems to perform simulations related to his research into Public Safety Network architectures and IoT network topologies assisted by Unmanned Aerial Vehicles, also known as drones. The aim is to evaluate the complexity, runtime, and efficiency of algorithms and frameworks that aim to provide resilient communications during public-safety-threatening events, he explained.
A native of Athens, Greece, Sikeridis received his diploma in electrical and computer engineering with a major in telecommunications and information technology from the University of Patras in Greece before arriving in New Mexico.
"I came to UNM in August 2016 aiming for a master's degree, followed by a doctorate degree in electrical and computer engineering," Sikeridis said. "One of the main reasons for choosing UNM was to work with my Ph.D. advisor Professor Michael Devetsikiotis, who joined the UNM ranks at the time, and is an expert in the fields of computer networking and operations research, which align with my research interests."
He received his master's degree in electrical and computer engineering from UNM in spring 2018.
"I am currently working toward my Ph.D. as a member of the UNM Electrical and Computer Engineering (ECE) Department's Internet of Things Lab (IoT) led by my advisor, Prof. Michael Devetsikiotis," Sikeridis said. "The main area of the IoT Lab is performance modeling for cyber-physical and socio-technical systems with the research focusing on smart grid communication modeling, intelligent electric vehicle charging, smart cities, public safety, and Quality of Service relationship to resource capacity. In addition, I am an external collaborator of ECE's PROTON (Performance and Resource Optimization in Networks) Lab led by Prof. Eirini Eleni Tsiropoulou. The main research focus of PROTON lab is on modeling and optimization of cyber-physical social systems, including 5G wireless communication systems and Internet of Things infrastructures, dealing with end-users' quality of experience and human behavior modeling."
Sikeridis's research focuses on designing and simulating architectures for Public Safety Networks, energy-efficient resource management for wireless communications, and the utilization of IoT as a building block for resource-efficient smart cities and public safety environments.
"The aim is to provide resilient communications and develop smart city services during public-safety-threatening events with frameworks operating in an autonomous and distributed manner relying on game theoretic and learning-based approaches," he explained.
After getting his Ph.D., Sikeridis wants to remain and work in academia, but, he added, "The prospect of working in industry is also very appealing to me, especially positions related to Research and Development."
Sikeridis enjoys UNM and New Mexico.
"The UNM environment is very friendly, especially for international students like myself, while New Mexico is a state like no other, with all kinds of natural monuments and places of cultural significance like Taos, White Sands, and Tent Rocks. I definitely encourage a visit to New Mexico!"