STEAM NM brings new exhibition to CARC Gallery
By Mariah Rosales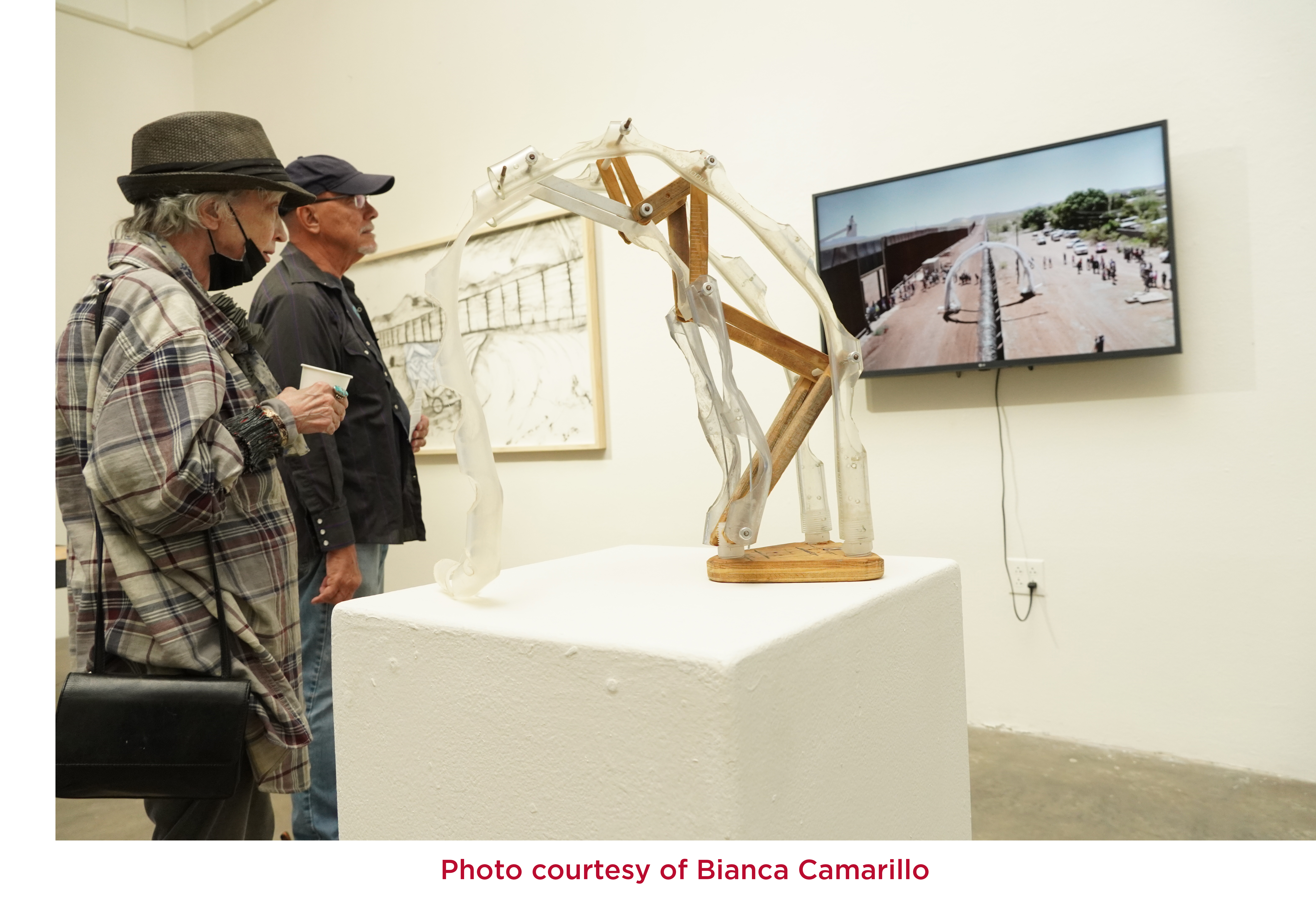 At the beginning of 2022, the Santa Fe Art Institute (SFAI) teamed up with SciArt Santa Fe, CARC's STEAM NM, and UNM College of Fine Arts to host the exhibition In Place: Future Artifacts and Remembrance Along El Camino Real de Tierra Adentro at the SFAI Gallery featuring artists Katherine Boles, Heidi K. Brandow, Angel Cabrales, Chico MacMurtie, and Francisco Uvina. Now a revised version of the exhibition is being displayed in the CARC Gallery, which includes high quality images of the live exhibition and an in-depth look into the lives of the featured artists and professors that collectively worked on this project. UNM graduate student Bianca Camarillo, who helped bring the exhibition to CARC, notes that "This specific revision at CARC dives deeper into the information about the show and artists, despite not having the actual artwork present. Images and video interviews from the first opening are displayed along with QR codes to links with further information for viewers."
El Camino Real de Tierra Adentro began as Native American trails and trade routes stretching from Mexico City, Mexico, to the Pueblo of Ohkay Owingeh north of what is now Española, New Mexico, according to New Mexico Historic Sites. Upon the arrival of Spanish settlers led by Juan de Oñate, New Mexico was established as a colony of Spain, and the trail became the route upon which exploration, conquest, and colonization occurred. El Camino Real remained a key travel and trade route until the 1880s, when the arrival of the railroad ended the utility of the trails. Today, El Camino Real de Tierra Adentro serves as a National Historic Trail from Santa Fe, New Mexico to El Paso, Texas. 
A part of UNM's mission is to support social, cultural and economic development in communities to enhance the quality of life for all New Mexicans, and In Place is one example of the mission in action. The artists and designers featured in In Place question how viewers see and use technology to imagine monuments along the historic Camino Real cultural corridor and shed light on the reality of Spanish colonization and how it shaped the Camino Real through their artworks. The exhibition aims to create dialogue about the relationships between art, architecture, science and technology for viewers of these contemporary interpretations of southwestern cultural landscapes and monuments. New Mexico is diverse and home to many cultures, and the history of Spanish colonization in the state represents a dark and difficult period for those who already lived on these lands. The colonization of New Mexico continues to influence modern-day conversations about inclusion. In recent years, protests have led to the removal of statues, monuments and buildings that featured Oñate and other Spanish conquistadors. In Place continues and expands the conversation about representation in New Mexico's monuments. 
According to SciArt Santa Fe's website, the artists and professors involved with In Place collectively intended to translate their message of inclusivity and change in a way that viewers could envision through concept drawings, 3D visualization, mapping, robotics, and sculpture. In conjunction with the opening of the exhibition last year in Santa Fe, SciArt Santa Fe held a number of public conversations that encouraged dialogue on the relationship of art and science to monuments and historic representation through the lens of land use, colonization, climate change, extractive industries, and community. Camarillo states that "In Place was an exhibition focused on the current meaning and purpose of monuments. With the help of these artists and UNM landscape architecture students, they were able to come together and share their views of what monuments should stand for and bring purpose to communities."
This revised exhibition, hosted by STEAM NM, is currently open to view at the CARC Gallery and will be available throughout 2023. Visitors with UNM Lobo ID cards can enter the building via card reader during normal business hours; visitors without UNM ID cards should ring the doorbell. The entrance is located at the northwest corner of Central Ave. and Pine St. 
Exhibition location and hours: 
1601 Central Ave NE, Albuquerque, NM 87106
Monday - Friday, 8am - 5pm