Students go on-site to learn about greenhouse gas emissions
By Mary Beth King
UNM Undergraduate Research, Arts & Design Network
University of New Mexico Earth and Planetary Sciences students, led by Environmental Science professor Joseph Galewsky, recently left the classroom and went into the field to get firsthand experience studying greenhouse gas emissions. The project-based experience was a capstone course for graduating seniors with the aim to better quantify gas emissions from various sources and their effect on climate change.
Galewsky, who studies links and feedbacks between climate and the solid Earth, took 13 graduating seniors pursuing bachelor of science degrees in Environmental Sciences and master of science degrees in water resources to several sites around New Mexico to study greenhouse gas emissions. The project was to compare and better quantify reported emissions ̶ which, he said, are often "notoriously under-reported" ̶ with those measured on-site by the students.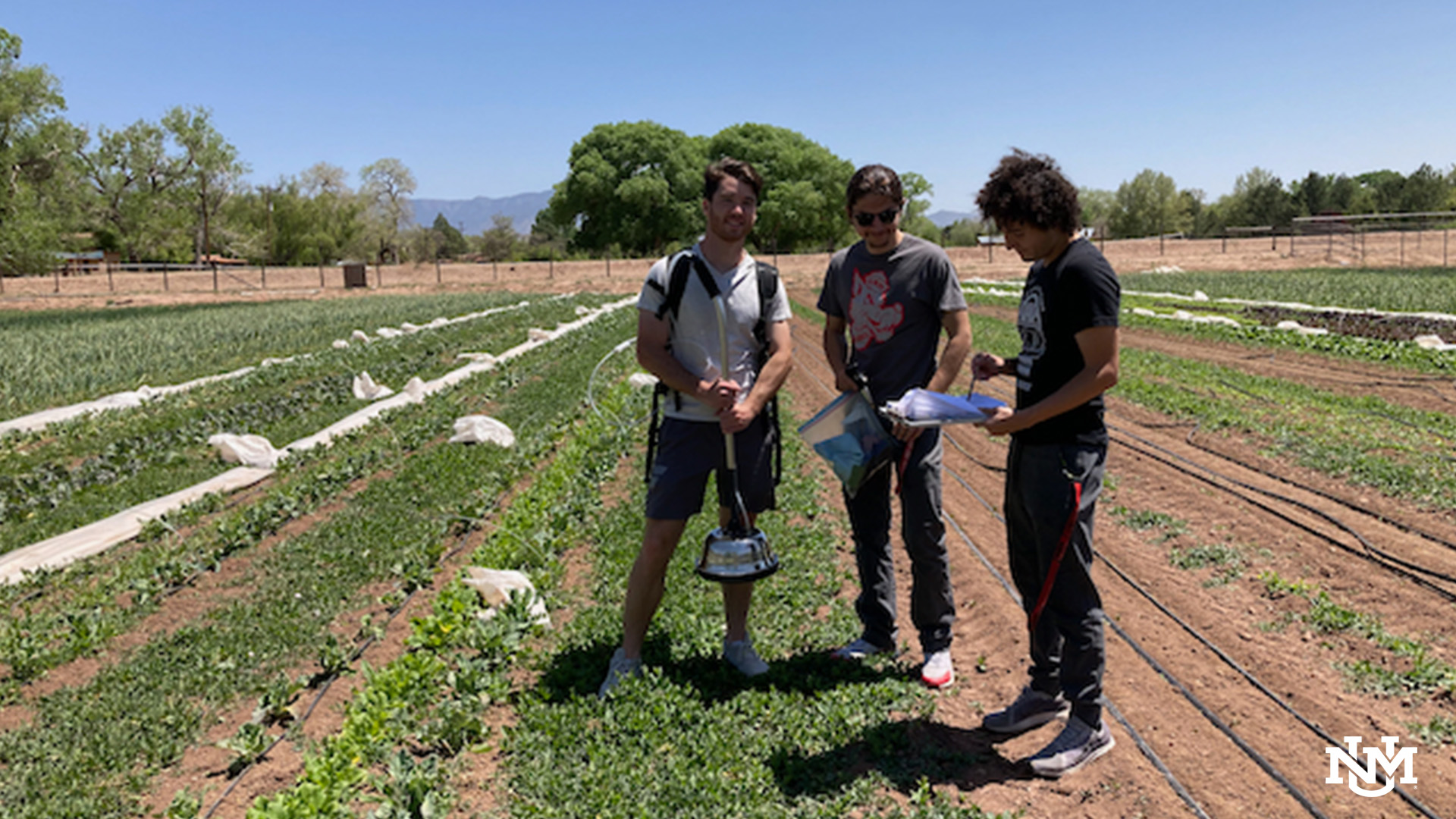 "We measured greenhouse gas emissions across a wide range of settings ̶ landfills, agriculture, natural settings in the bosque and in the Sandias, and emissions associated with oil and gas production," Galewsky explained.  "We made several field trips in the area, including to a local organic farm, Vida Verde Farms, and the Los Angeles Landfill near the Balloon Fiesta Park. And we made a special trip to southeast New Mexico, south of Carlsbad, to measure methane leaks associated with oil and gas development."
The team used data from the TROPOMI satellite ̶ which monitors atmospheric gases such as ozone, sulfur dioxide, and methane ̶ and a backpack-mounted monitor called a GasScouter to measure methane leaks at the different sites.
"The students gained expertise in using remote sensing data and in-situ spectroscopic measurements of greenhouse gas emissions," Galewsky noted. "They also gained experience analyzing satellite data using the computing resources from the UNM Center for Advanced Research Computing."
A variety of career opportunities lies ahead for these students.
"Joe's class helped open my eyes to the reality of some of the job fields for environmental science majors," said David Atkin, a senior graduating this semester with a double major in Environmental Science and Spanish. "We tend to think about aiding climate change in some large, direct way. Often, we learned, change happens by many smaller acts. Moving forward I would like to continue my studies with a master's degree in renewable energy and sustainability. This was a plan I already had but this class helped solidify that this is something I want to pursue. The class provided great insight both to potential job fields for environmental science majors as well as a look into the massive infrastructures in place that are directly changing our climate."
"These students can work in a wide range of environmental consulting work, or in government labs like Sandia or LANL or they can also work in science-based advocacy like the Environmental Defense Fund," Galewsky said.
"It was exciting to be able to work with students on a problem of genuine scientific and societal relevance right here in New Mexico," he added.
Photo courtesy of the Earth and Planetary Sciences Department: Students David Atkin, Issac Martinez, and Stephen Sanders discussing soil greenhouse gas emissions from soils at Vida Verde Farms, a 5-acre small scale organic farm in the Albuquerque North Valley.