AmeriCorps volunteers facilitate research in Vis Lab
The Visualization Laboratory, or "Vis Lab," at the University of New Mexico Center for Advanced Research Computing, is a hub of resources that allow UNM students and faculty to experiment with art and technology using cutting-edge techniques. The lab offers two 3D printers, a laser cutter, a plot cutter, a soldering station, and an embroidery machine as a part of the STEAM NM program, headed by UNM Fine Arts Professor Andrea Polli. These tools have been used to make a diverse array of objects - computer chips, artwork, and even an apparatus designed to examine the gas emissions of potted plants.
Maintaining the Vis Lab are two AmeriCorps VISTA volunteers: Betty Bastai and Rosemary Morgan. AmeriCorps VISTA is a division of AmeriCorps dedicated to alleviating poverty across the country. As stated on the organization's website, "AmeriCorps VISTA members serve as a catalyst for change, living and working alongside community members to meet our nation's most pressing challenges and advance local solutions." The program lasts one year during which participants are compensated by only a small living stipend. At the end of the year, they are rewarded with either a sizeable education award or a small cash bonus. Volunteers receive benefits like free online professional training and the opportunity to participate in AmeriCorps events across the country. As volunteers at UNM, Morgan andBastai are also allowed access to the same outstanding UNM facilities available to students, like the Student Health and Counseling Center (SHAC), Zimmerman Library, and Johnson Gym.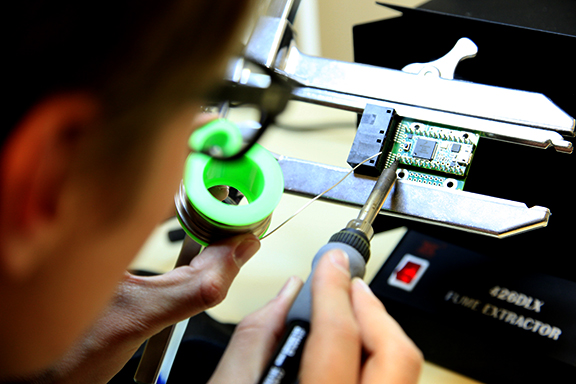 Morgan is a UNM alumna, having earned a bachelor's degree in anthropology (concentrating in archeology), a minor in geographic information systems, and a second minor in Asian studies. She recently began her year-long service commitment with AmeriCorps VISTA after hearing about the program's benefits from a friend. When asked why she likes working in the Vis Lab, Morgan jovially replies "I like to get to play with toys - toys I would otherwise not be able to access." But her time in the Vis Lab has been more than just play; Morgan is learning how to better utilize and improve the performance of Vis Lab technology. She hopes to someday bring the skills she is learning here at CARC to the field of archeology. "[My] ultimate goal is to be the tech guru of a museum," Morgan says. She believes that 3D printing could be used to make realistic models of archeological artifacts; these models could be studied and manipulated by students without risking damage to the delicate originals from which they were derived.  
Bastai, who is ending her year-long AmeriCorps program in August 2019, is an experienced volunteer with an extensive background in the arts. She received her master's degree in fine arts from the Edinburgh College of Art in Scotland. In 2016, Bastai continued her education by earning a certificate in graphic design and video production and editing from Washington State University. Bastai has participated in numerous volunteer programs and speaks highly of the advantages of working with AmeriCorps VISTA. "[AmeriCorps VISTA] is an opportunity to make great connections with people throughout the country," she remarks. Bastai explains that the program is an excellent option for recent graduates, professionals hoping to switch career paths, or anyone going through a transition in their lives.
By facilitating the Vis Lab,
Bastai
and Morgan are allowing students of diverse disciplines-from biology to computer science to fine arts-to pursue their curiosities and to make substantial contributions to their fields of study. If you are a UNM student or faculty member interested in using the Vis Lab please visit
the STEAM NM website
for more information or
contact the program via email.