Hussein Al-Azzawi working to expand research resources
CARC staff profile
Graduating this year with a master's degree while looking forward to getting a doctorate next year, Hussein Al-Azzawi also juggles a full workload at University of New Mexico. He is the network and storage specialist at the UNM Center for Advanced Research Computing (CARC). In addition, he's currently working on an extensive list of projects and collaborations within CARC, the university, and with other researchers across the state and country. In all his spare time, he helps people with career development through an Albuquerque community family services program, a high school program to get students interested in neuroscience careers, and volunteers as a ranch hand at a horse rescue operation.
"I have a really busy schedule but It's exciting and interesting. I'm never bored, every day is a new challenge, and I work with many fascinating people on really amazing projects," he said.  
Al-Azzawi received a bachelor of science degree in computer information systems before coming to the U.S. He received his first master's degree in network security from DePaul University in Chicago and will get his second master's degree in electrical engineering from New Mexico State University (NMSU) this summer, where he expects to get his Ph.D. in computer engineering next year. His thesis is inspired by his work at CARC. It's being supervised by CARC interim director Patrick Bridges and sponsored by four large high-tech corporations.
He travels back and forth between NMSU and UNM as he works on his degree and his job at CARC.
"I'm an Aggie and a Lobo at the same time. I never lose a game," he joked.
Besides pursuing his own studies every day, as part of the CARC systems team, Al-Azzawi has numerous and diverse duties designing, configuring, testing, troubleshooting, and maintaining the center's massive computing system. In 2017 he helped launch the powerful Wheeler system donated by Los Alamos National Laboratory that significantly boosted CARC's computing power.
"The center has been growing in a really dynamic way," Al-Azzawi said. "It's expanding every day and is engaged in so many important aspects of supercomputing on a state, regional, and national level."
Among the many projects Al-Azzawi is working on are:
a highly encrypted project that allows UNM researchers to exchange neuroscience data
a special purpose research storage consortium to heighten online security
designing a system to expand high performance computing resources at CARC. CARC director Patrick Bridges is submitting a $1 million grant proposal that would fund the expansion.
a cyber training collaboration with Oklahoma University.
a database project funded by the U.S. Department of Justice (DOJ) with New Mexico Office of the Medical Investigator (OMI).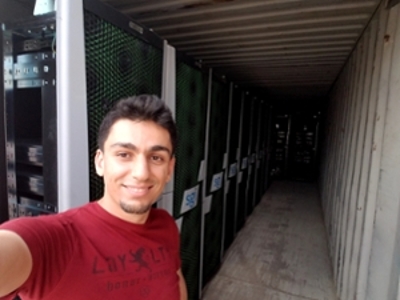 This new database will contain information about deceased persons. While some states have systems for their own information, the database that Al-Azzawi and Dr. Heather Edgar of the OMI are collaborating on will contain information for deceased individuals across the United States. This resource, housed on CARC systems, will allow medical and legal death investigators and anthropologists access to high resolution whole-body scans for uses such as detecting child abuse, survivability of trauma, and more accurate detection of forensic factors such as age and gender.
Bridges praised Al-Azzawi, noting, "Hussein is leading research projects on the next generation of CARC network and storage systems, and these projects wouldn't exist without his exceptional skills not only in computing, but also in his unique ability to understand the scope of these many diverse projects."
Al-Azzawi is always available to help with interdisciplinary research projects. Contact him at azzawi@carc.unm.edu.
Tales of a first-time SCinet volunteer: Hussein Al-Azzawi