CARC team travels to Denver for SC19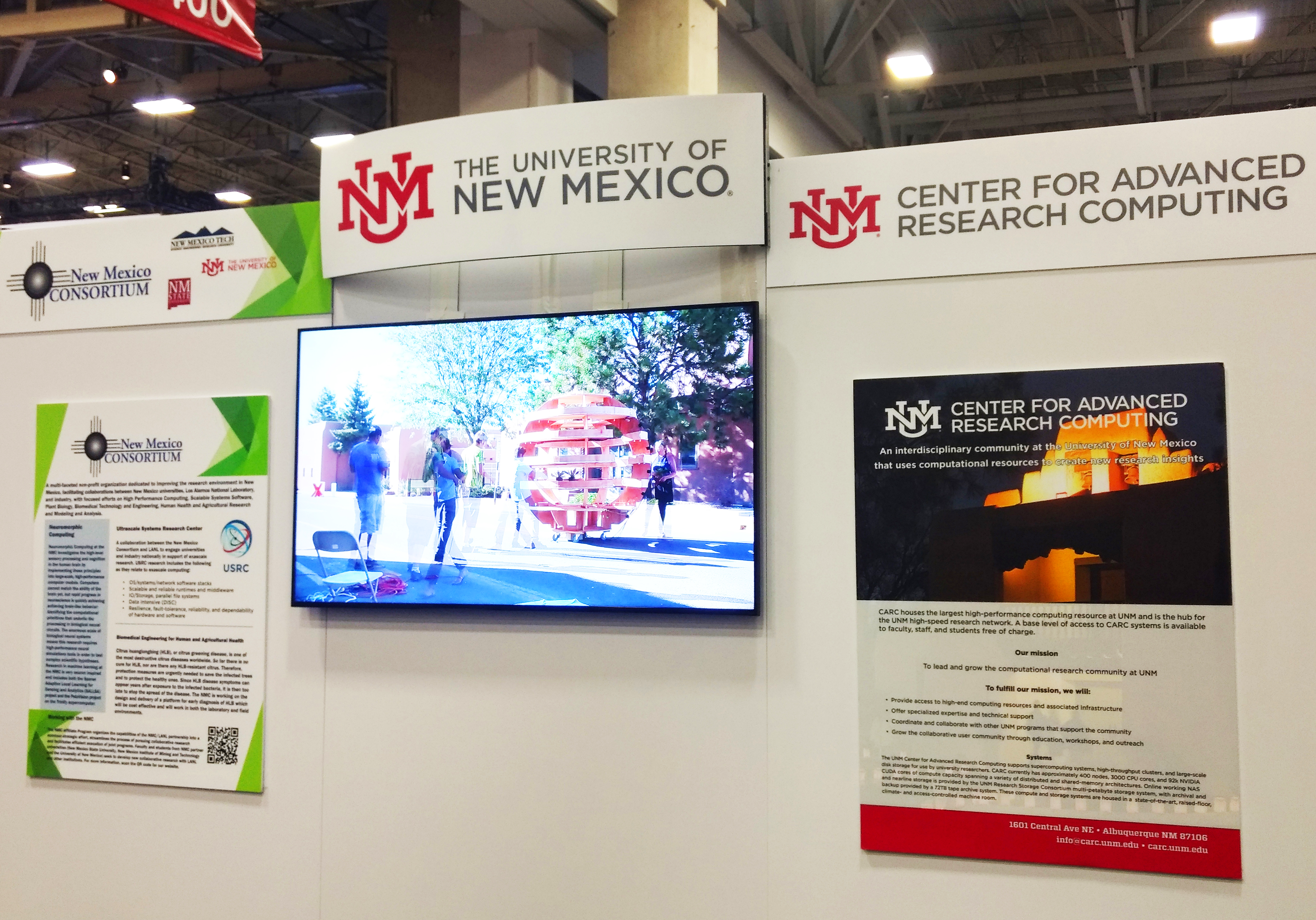 This November, the UNM Center for Advanced Research Computing will send its team of experts to the International Conference for High Performance Computing, Networking, Storage, and Analysis (SC19), the world's premier high-performance computing conference. The event gathers over 10,000 computer scientists and high-performance computing enthusiasts together every year to discuss and explore the latest computing technology from all over the world. SC19 attractions include exhibition booths, poster showcases, keynote speakers, competitions, and more. CARC, in cooperation with the New Mexico Consortium, New Mexico State University, and Oklahoma University, will host an SC19 exhibition booth to share recent CARC research with the international supercomputing community.
Representing CARC at SC19 will be the center's Director Patrick Bridges, Business Manager Tracy Wenzl, Research Assistant Professor Matthew Fricke, Systems Analyst Jose Sanchez, Network & Storage Specialist Hussein Al-Azzawi, HPC Systems Specialist Troy Redfearn, Graduate Assistant Schuyler Liphardt, and several of Bridges' computer science students.
CARC's exhibition booth will display digital posters highlighting research projects conducted using CARC resources. Featured projects include Liphardt's project on the prediction of hantavirus outbreaks, the revolutionary firefighting safety technology developed by Professor Manel Martínez-Ramón and his team, and UNM's Smart Management of Infrastructure Laboratory's use of augmented reality to identify failing infrastructure.
This year's conference will be especially memorable for UNM computer scientists because one of our own faculty members will be receiving an award. Associate Professor Trilce Estrada will be recognized with the 2019 ACM SIGHPC Emerging Woman Leader in Technical Computing Award for her outstanding professional achievements. The award is presented biannually to a woman in the middle of her career who has made exceptional contributions to her field.
According to the SIGHPC website, Estrada was chosen for this award because of her "innovative and transformative deployment of machine learning for knowledge discovery in molecular dynamic simulations and in situ analytics." Much of her work has focused on solving highly data-intensive problems in various scientific fields. "I'm humbled and honored to receive this distinction," Estrada says, "and I hope to be a worthy role model for girls starting in this field."
At this year's conference, Al-Azzawi will participate, once again, in SCinet, a project in which leading computer scientists from all over the world build the fastest network on Earth throughout the course of the SC conference. According to the program's website, the 2018 SCinet network was built by over 180 volunteers, used donated resources valued at $66 million, and reached speeds of 3.63 terabits per second of wide area network capacity.
Although attending SC conferences can be a lot of fun, it's also a vitally important part of operating a modern high-performance computing facility. As Bridges says, "SC provides invaluable professional development opportunities for CARC staff to learn state-of-the-art research computing techniques." He goes on to explain that in addition to sharing their own achievements, CARC team members will have the opportunity to have "in-depth discussions with vendors about current and upcoming high performance computer systems technologies" and "meet with a wide range of research collaborators to develop strategies for future system deployments and grant/contract proposal submissions." The knowledge CARC staff gain from SC conferences allow them to continually improve the cutting-edge computing resources enjoyed by UNM researchers.
Visit CARC's Facebook and Twitter accounts from November 18th through the 21st for live SC19 updates!