Troy Redfearn pursues better user experience with new test cluster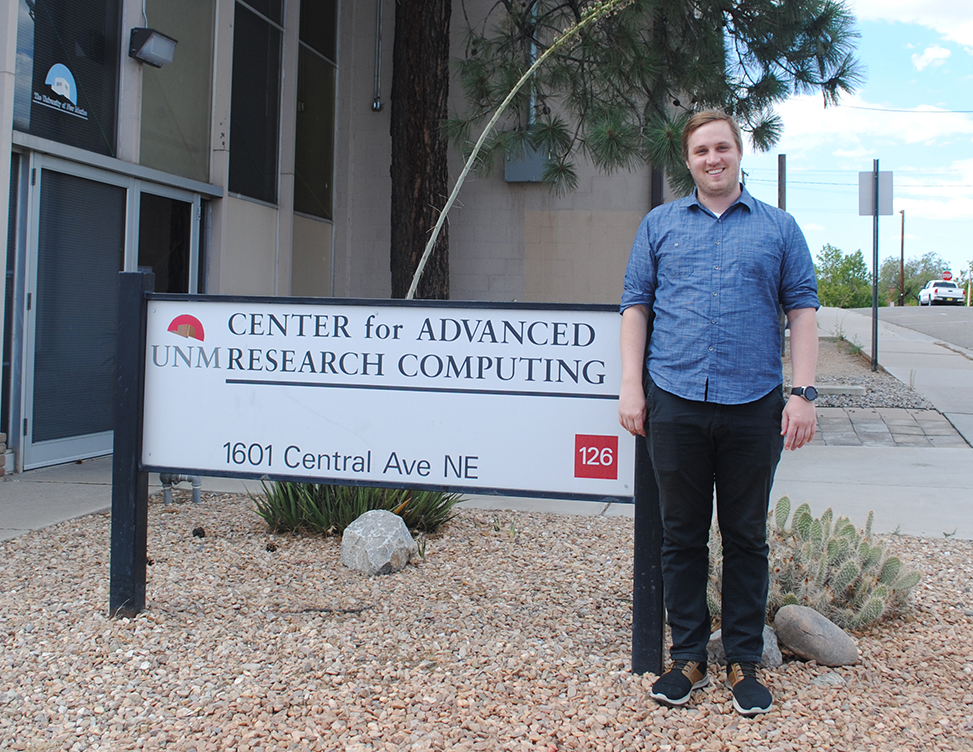 A recent graduate of New Mexico State University, Troy Redfearn is one of the newest additions to the University of New Mexico Center for Advanced Research Computing team. His fresh perspective and experience in network engineering have become an invaluable asset to the center's elite staff of computer scientists.
Redfearn grew up in Riverside, California, but moved to New Mexico to attend NMSU in Las Cruces. After settling in, he found himself enchanted by our unique state. "I just love the blend of cultures that coexist here," Redfearn states, "It's got a certain charm." At the outset of his college career, he was most interested in entomology, the study of insects. Over time, however, his enthusiasm for the subject waned. "I didn't connect with the material," Redfearn recalls. He began exploring new avenues and soon discovered his talent for computer science. "I instantly loved it," Redfearn says. "There was never any doubt."
While studying, Redfearn began his career in computer science by working at New Mexico State University Network Engineering Services. There, he performed beta testing implementation of a network architecture system. Upon graduation from NMSU, he was offered the position of HPC Systems Specialist 1 at the Center. Since beginning his work at UNM in June, Redfearn has already established himself as an indispensable part of the systems team.
For the past month and a half, Redfearn has dedicated much of his time to a new test cluster project named "Wheelie." Wheelie, so named because it is the "little brother" of the Wheeler computer system, will be used to test new programs in a safe environment without disrupting user experience. Once Wheelie is up and running, CARC systems staff will be able to simulate the outcome of novel programs without interfering with those programs currently relied upon by UNM researchers. In particular, CARC scientists would like to test JupyterHub, a web-based interface for high-performance computing. This new interface will make log-in easier for CARC system users and create a more efficient platform.
Redfearn is joined in his work on the Wheelie system by Systems Analyst Jose Sanchez and Research Assistant Professor Dr. Matthew Fricke. "It's really impressive;" says Fricke of Redfearn's work on the Wheelie project. "He's already built this whole new system in . . . six weeks."
The aim of Redfearn and his colleagues is to use their innovative techniques to make advanced research computing at UNM faster and more user-friendly. These improvements will aid in the completion of countless new research projects in the years to come. As for the future of his work with CARC, Redfearn reports, "The biggest thing we have in mind is modernizing."  Redfearn and his colleagues plan to continue merging network expertise with unbridled creativity to support research discoveries at UNM.