CARC helps UNM race car team's need for speed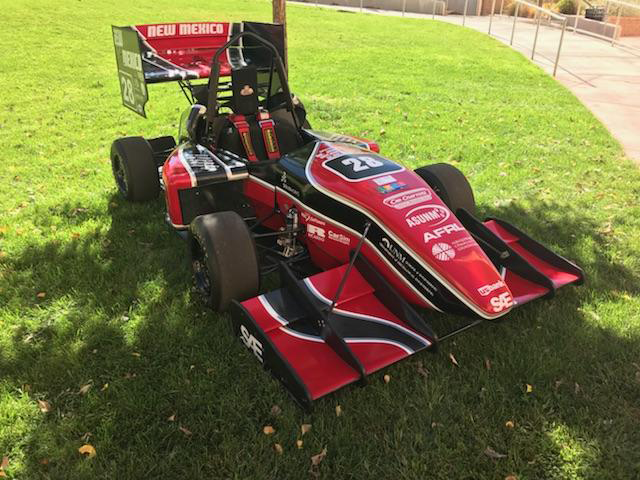 The University of New Mexico Formula SAE is making race cars go faster with the help of the university's Center for Advanced Research Computing (CARC). Formula SAE is an international engineering-design competition where student teams from universities design and build a Formula-1/Indy style race car to compete against other universities. The cars are judged in many aspects including design, cost, acceleration, autocross, and endurance. In the three-semester program at UNM, student teams design, build, and race a car in international competition.
(Update:The UNM cars are ready to roll in competition. See story.)
(The Dana C. Wood estate has given $3 million to the school – half of which will go toward creating the Dana C. Wood FSAE Racing Lab inside the Farris Engineering Center. The lab will give UNM's Formula Society of Automotive Engineers program more room to build race cars for international student competition. See full story in the Albuquerque Journal)
In a basement shop in the UNM Mechanical Engineering building, students are building and maintaining cars, explained FSAE Aerodynamics Team Lead Mark Blair. The program gives students the opportunity for real hands-on engineering experience instead of just taking classes.
Mechanical Engineering Professor John Russell, who leads the program, runs it as an engineering company that gives students real work experience while they're still in school, Blair said.
A small number of graduates will go on in the automotive field, he said, but others will find careers in other aspects of the engineering field. Grads have gone on to organizations such as SpaceX, Tesla, GE, Sandia National Laboratories, and Boeing.
Lending their support to the program are lab manager Mike Arnold, and Alan Mertens, a veteran award-winning Indy car designer and builder. Both have worked extensively with two-time Indy winner Al Unser Jr., who helps train the students who will drive the newest car in competition.
To design better aerodynamics and make a faster car, students use CARC to run a computational fluid dynamics program called Star CCM+. Using Star CCM+, multiple tweaks can be made quickly to the car's design, and then it can be placed in a virtual wind tunnel that models air flow, drag, and down force on the car.
Running the program takes huge computational power to run and that's why they use CARC, Blair said.
"We use CARC to run this program in multiple iterations to optimize performance and get results in a reasonable amount of time," he explained, adding that the help from Mertens and CARC computing power makes the team more professional.
In June 2017, the newest UNM car went to international competition in Lincoln, NE, to compete against 80 student teams from around the United States and the world. Competition was tough as UNM went up against top universities such as Texas A&M, University of Texas at Arlington, and University of California, Berkeley. The UNM team placed 36th overall and 7th in Engineering Design. The team will compete again in June 2018 with a new car currently under construction.
You don't have to go to Nebraska to see the UNM cars run though, Blair said. Most weekends, the UNM FSAE team can be found in the G lot north of campus where they train students for the event. Or you can visit the shop in the Mechanical Engineering building. Contact Joshua Nowlin for a tour.
Go to the UNM Formula SAE website for more information on the program.