Social Media Workshop pod project looks toward futuristic farming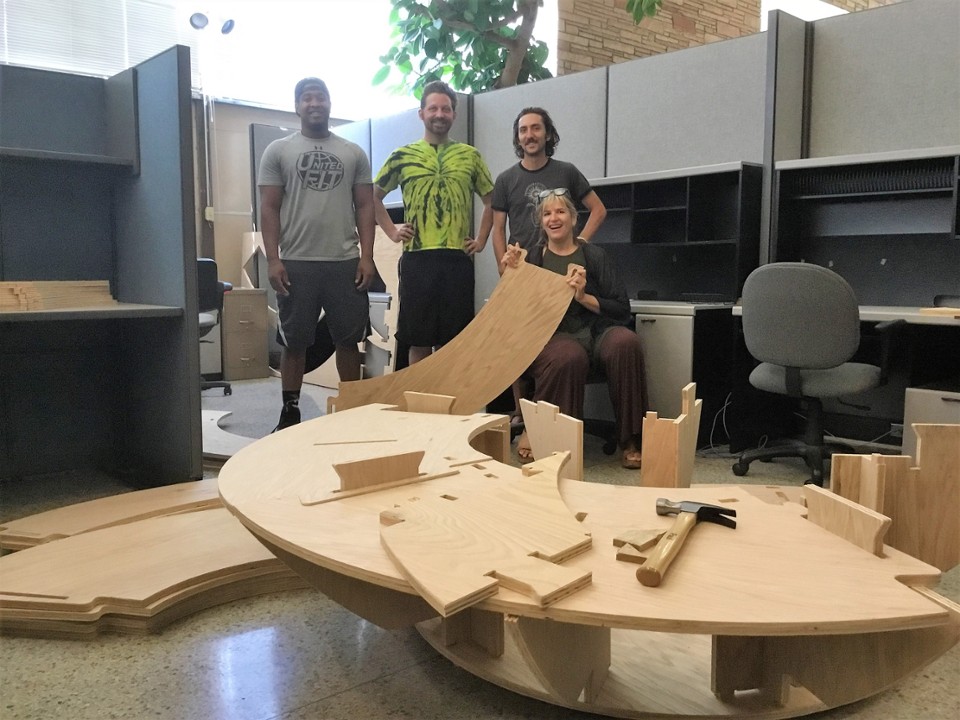 When he began work in the Center for Advanced Research Computing (CARC) it looked a little as though University of New Mexico landscape architecture grad student Paul Ross was building a Death Star from the Star Wars film franchise. But the actual purpose of the structure, called a GLOWpod, is a little more down to earth.  
The GLOWpod was created under the leadership of artist and UNM professor Andrea Polli in conjunction with the Social Media Workgroup. Polli is known for her work that melds art, data, science, and technology into media installations and community projects. Most recently in Pittsburgh, elements of her highly popular Energy Flow bridge project were repurposed in Garrison Canal, a public art installation that now turns a formerly dark city alley into an imaginary underwater future world of big data. Closer to home, a lighting project led by Polli twinkles in the CARC windows along historic Route 66, an attention-grabbing work of technology and public art that reflects the road's place in popular culture with a modern data-related twist.
The GLOWpod, as in Polli's other projects, merges art, light, technology, and data. The "GLOW" in GLOWpod stands for "Growing Life on Other Worlds," she explained.  
"The GLOWpod invites participants into a territory somewhere between a greenhouse of tomorrow and extra-terrestrial nursery," Polli explained "It's a sphere-shaped room that immerses visitors in living plants and spectacular responsive lighting displays. As explorers enter this space, inputs such as temperature, carbon dioxide, oxygen, light and heat, soil moisture, humidity, water level, water flow, and motion are sensed and visualized in animated light."
Ross crafted the wooden structure of a GLOWpod, a semi-portable structure that holds a collection of medicinal and nutritional New Mexico plants. The semi-portable pod stands 9 feet tall, 8 feet wide, and contains around 250 New Mexico plants with nutritional or medicinal qualities.
"I'm the construction coordinator because this project involves an understanding of design, 3-D space, construction, and plant selection criteria," Ross said.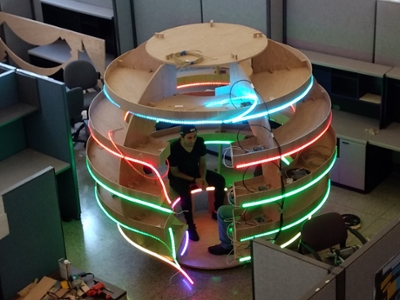 The pod includes a VR component that will allow visitors to look at the plants and see information such as their names and purpose. Student technical specialist David DiDonato, who is working on a bachelor's degree in mechanical engineering, and lead programmer Brandon Wade, who is pursuing his bachelor's degree in computer science, contributed their technical expertise, wiring a system of Arduino microcontrollers to the plant beds and a virtual reality app. David built the circuit boards and designed the sensor interface. Brandon did the coding and overall color reactions.
Jared Rendon-Trompak, another researcher in Polli's lab, has created visualizations of the GLOWpod and is working on the documentary about the project.
The plants for the project come from partner Red Willow Farms in Taos, N.M.
"We are incredibly fortunate to be collaborating with expert New Mexico plant growers at Red Willow Farms," Ross said. "[We and] farmers at Red Willow are interested in the local flora of New Mexico and engaging with climate change in a way that highlights the fact that many places in the world will become more like New Mexico. Learning about plants and agricultural practices that work here in the long term is incredibly valuable place to find resiliency of future. Predictions are that climate change will dry up large parts of the world and storms will become less frequent, but more violent. And that fits New Mexico's climate patterns."
The GLOWpod isn't a new way to farm or garden, Ross noted. But it does merge new technology with indigenous and traditional botanical knowledge.
"It creates a cool new way of engaging the sensory experiences of people, a visually interesting space to lure people in to learn about their own native plant communities and explore ways that technology can enhance and assist traditional botanical knowledge."
The GLOWpod made its debut in Taos at the Paseo Project in mid-September. The Paseo Project is dedicated to bringing the art of installation, performance, and projection to the Taos historic district. The GLOWpod is now at the ¡Explora! Learning center in Old Town Albuquerque for at least a year. See the KRQE news story and video here.
Top photo: The GLOWpod team includes, from left, lead programmer Brandon Wade, student technical specialist David DiDonato, construction coordinator and landscape architecture grad student Paul Ross, and Professor Andrea Polli.
Bottom photo: The GLOWpod assembled and awaiting technological embellishments.